Aug
23
2011
SHOF Mourns Songwriting Greats Nickolas Ashford and Jerry Leiber
The Songwriters Hall of Fame was exceptionally saddened to learn of the passing of two of our esteemed inductees.
"Yesterday we lost two of our brothers, Jerry Leiber and Nick Ashford, two of the gentlest, brightest and most talented souls that it has been our pleasure to know in the songwriting profession. To have lost either of them separately would have been a great tragedy for us; to lose them both on the same day is almost unbearable. They are as unforgettable for us as their great songs will always be to the public. The Songwriters Hall of Fame extends heartfelt sympathies and condolences to the songwriting partners and families of these great men."—Jimmy Webb, Chairman, Songwriters Hall of Fame
Nickolas Ashford met his future wife and collaborator Valerie Simpson in 1964 at the White Rock Baptist Church in New York City. Nick had come to New York to pursue a dance career and Valerie was playing piano and singing with the church's legendary choir. Nick joined the choir and the two began writing pop songs for fun. Word of the talented duo spread quickly and Ashford & Simpson sold their first batch of songs for $64.00. Since the beginning of their career together, Nickolas Ashford and Valerie Simpson went on to become one of the most prolific and versatile musical couples in recording history. Combining skills as performers, songwriters and producers, they created an unprecedented catalog of chart-topping hit singles and album, collecting 22 gold and platinum records and more than 50 ASCAP Awards.
As staff songwriters for Sceptor Records, Nick and Valerie wrote Ray Charles' classic "Let's Go Get Stoned" in 1964 which brought them to the attention of Motown where they wrote their second smash "Ain't No Mountain High Enough" for Marvin Gaye and Tammi Terrell. Other Gaye/Terrell hits followed including "Your Precious Love," "Ain't Nothing Like the Real Thing," and "You're All I Need to Get By."


Ashford & Simpson signed with Warner Brothers in 1973 as recording artists and recorded eight albums, four of which went gold. Their numerous hit singles include "Send It," "Found A Cure," "Don't Cost You Nothing," "It Seems To Hang On," and "Love Don't Make It Right." In addition to their own growing catalog of songs, Ashford & Simpson wrote and produced for Ben E. King, Chaka Khan, Gladys Knight and the Pips, Quincy Jones and they rewrote a version of "Ain't No Mountain High Enough" for Diana Ross that became a #1 record. In the 80's, Ashford & Simpson signed with Capitol Records and their hit "Solid as a Rock" became a signature song for the duo.
Ashford & Simpson's music has been used as themes for international events, such as the opening of the Olympic Ceremonies, and the Hands Across America theme "Reach Out and Touch Somebody's Hand." In 1993, they penned their smash hit "I'm Every Woman" recorded by Whitney Houston for "The Bodyguard" soundtrack.
Nickolas Ashford was inducted into the Songwriters Hall of Fame in 2002, and he is survived by his wife and fellow SHOF inductee Valerie Simpson, and their two daughters, Nicole and Asia.
Jerry Leiber, born in 1933, met his songwriting partner Mike Stoller in 1950 when both were 17, and discovered a mutual love for boogie- woogie and the blues. By the time they were 20, in just three years of working together, their early songs had been recorded by a collection of true all-stars in the rhythm and blues genre including Jimmy Witherspoon, Little Esther, Amos Milburn, Charles Brown, Little Willie Littlefield, Bull Moose Jackson, Linda Hopkins, Ray Charles and Willie Mae (Big Mama) Thornton who actually first recorded "Hound Dog" in 1952. Atlantic Records executives, Ahmet Ertegun and Jerry Wexler among them, were impressed, and in 1955 signed Leiber and Stoller to the first independent production deal, forever changing the course of production in the record industry.
For the next decade, well into the late '60s the hits of Leiber and Stoller were constantly at the top of the charts, including the memorable "Stand By Me," "Spanish Harlem" and "I (Who Have Nothing)," by Ben E. King; "On Broadway," "Dance With Me" and "Drip Drop" by The Drifters; LaVern Baker's "Saved" and Ruth Brown's "Lucky Lips."
During this same productive period, there were other Leiber and Stoller smashes, including "Love Potion #9," by The Clovers, "Only In America" by Jay and The Americans, "I Keep Forgettin," by Chuck Jackson, Wilbert Harrison's "Kansas City," The Drifters' "There Goes My Baby" and "Fools Fall In Love," "Black Denim Trousers and Motorcycle Boots" by The Cheers and "Ruby Baby" by Dion DiMucci.
Following the triumph of "Hound Dog," Elvis Presley actually went on to record more than 20 Leiber and Stoller songs, including such highlights as "Loving You," "Bossa Nova Baby," "She's Not You" and "Santa Claus Is Back In Town."
The true diversity of the pairs of talent came into full bloom with the genre-bending song "Is That All There Is," recorded by (Miss) Peggy Lee in 1969, which prompted music critic Bob Palmer's comment, "the golden age of rock and roll has come to an end."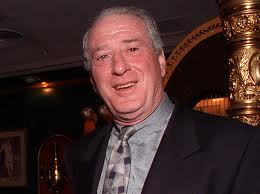 Leiber and Stoller have also shared many major accolades and awards. They were inducted into the Songwriters' Hall of Fame in 1985, the Record Producers' Hall of Fame in 1986 and the Rock and Roll Hall of Fame in 1987. In early 1988, the Presley recording of "Hound Dog" was placed in the Grammy Hall of Fame. And in 1991, the pair were presented with the prestigious ASCAP Founders' Award.
In the year 2000, while celebrating their 50th anniversary as a team, they received the coveted Ivor Novella Award from the British Academy of Songwriters. That same year, they were honored with the prestigious Songwriters Hall of Fame Johnny Mercer Award.
Those artists who have recorded the songs of Leiber and Stoller include The Beatles, The Rolling Stones, The Beach Boys, James Brown, Little Richard, Jerry Lee Lewis, Buddy Holly, Fats Domino, The Everly Brothers, Bill Haley and the Comets, Barbra Streisand, Jimi Hendrix, Muddy Waters, Johnny Mathis, Joe Williams, Count Basie, John Mellen-camp. Lou Rawls, Tom Jones, Edith Piaf, Bobby Darin, Chet Atkins, Aretha Franklin, Luther Vandross, B.B. King, and Otis Redding, among hundreds of others.