Kimberly Korn - Love, Lose, Learn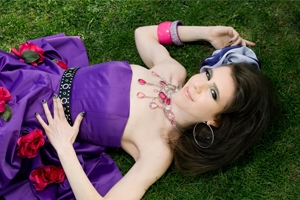 Since the age of 2, singer/songwriter/dancer Kimberly Korn has always had an obsession with being on stage. Taking up ballet lessons at 2 1/2 years old, Kimberly would seldom take off her recital costumes. Then a night out with her parents at the Joffrey Ballet sealed her fate. "I announced to my parents that night that I was going to be dancing with the Joffrey Ballet one day," Kimberly recalls. And sure enough, with over a decade of ballet lessons, hard work and determination, Kimberly auditioned and won a spot on Joffrey's roster when she was 14. But eventually Kimberly's aspirations turned from pirouettes to rock 'n roll.
As a child, she discovered her inherent gift for music and performing, putting on regular song-dance-comedy shows for her neighbors and singing in her elementary school choir. Seeing a real talent in the young starlet, Kimberly's choir teacher encouraged her to seek vocal training with famed composer/producer/vocal coach Russel Faith in Philadelphia. After several years of private training with Faith, Kimberly set her sights on the Big Apple and enrolled in Stagedoor Manor Performing Arts Camp in New York City. "I did the 'Fame' thing," says Kimberly. "I shuttled back and forth between Philly and New York, and studied acting and music alongside Natalie Portman and Mandy Moore." She also studied dance with highly esteemed choreographers Mia Michaels and Debbie Allen, and later attended NYU's Tisch School of the Arts. Eventually, Kimberly would meet fellow Philadelphia native Pink, who became Kimberly's friend and mentor. "It was great meeting all these artists that are really successful now," says Kimberly. "They gave me great inspiration and feedback on my music and really helped me learn the business."
Soon after her performance training, Kimberly began her hand at songwriting. Her real life experiences in New York City–including "sucky relationships"–provided inspiration for her songs. While at NYU, Kimberly met prolific producer/writer, Tommy Faragher, who has combined record sales of over 10 million, is an ASCAP Pop Award winner, and the composer of Taylor Dayne's hit "With Every Beat of My Heart". With Faragher, Kimberly recorded the songs "Raw", "Celebriphilia", "I Wore My Vinyl Pants (For You)", and "Heart to Heart". Later on, Kimberly met producer Chris Rojas (Teddy Geiger and Pink) with whom she recorded "Love Lose Learn", "What Happened?" and "Broken Inside". She recently teamed up with Grammy Award winning producer Alfredo Cevallos to record "Delete You" and "Bad Girl Good Boy".
Kimberly's songs are very personal and cover a wide range of her own emotions–self-doubt, insecurity, self-identity, ambition, disappointments, love, lust, anger, etc. And of course there are the breakup songs, including "Delete You", a tongue-in-cheek anthem for modern-day breakups on a popular social networking site: I really wanna / Change my status to single and free / And have some fun / Letting go of the memories. "Love Lose Learn" describes the epiphany that a relationship is going nowhere and realizing "we all make mistakes." "Broken Inside" is the most soul-baring track and describes her own duality as a woman who "shines on the outside, but her heart is on the ground." Despite the angry/painful subject matter, Kimberly's songs are always very upbeat and lively–much like how her inner pain is masked by her bright, upbeat attitude and appearance. "No matter how many times I've been hurt," says Kimberly, "I always manage to stay positive."
Kimberly recently shot her first music video for her song "Broken Inside" and is now reaching out to many new audiences. She has already built an impressive performance resume over the past couple years, which include seminal New York City venues CBGB's, Don Hill's, The Delancey, Fontana's, and The Bitter End as well as The Khyber and Tin Angel in Philadelphia. She has also done in-store performances at Hot Topic in Philadelphia and the new Best Buy mega-store in New York City. Her recent accolades include being accepted into the prestigious Songwriter Hall of Fame Showcase in New York City in April 2010 and being honored as as one of the 2011 Best New Songwriters by the Songwriters Hall of Fame. Kimberly was also one of twenty songwriters in the country accepted to BMI's Contemporary Professional Songwriting Workshop. She is currently in the studio recording new songs and is focused on bringing what she calls "the soundtrack of her life" to wider audiences.
kimberlykorn.com
myspace.com/kimberlykorn