Jennifer Logue/Darko Saric - Pretty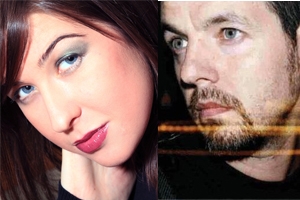 Jennifer Logue is a young singer-songwriter who is making her mark on New York scene. Her music is quirky, energetic, and international, blending the best of the States, Europe, and Latin America. She's a powerhouse singer, a guitar player, an actor, a world traveler, a pianist, and a multi-linguist, with an undeniable talent for crafting melodic, catchy pop songs.

In June 2009, Jennifer released the Pretty EP, a seven- song disc that received critical acclaim and a lot of Internet buzz. The surging popularity of the release earned Jennifer several gigs in Europe, which turned into her first European tour. Flying solo with only her backpack and guitar, Jennifer spent 6 months performing in Spain, Greece, Turkey, the Czech Republic, France, Germany, Switzerland and the Netherlands. In that time, she also won a performance slot in the Gap's Born to Play Contest, winning out over thousands of other aspiring artists.
Currently, Jennifer is back in NYC, preparing for the release of her latest album, The Split Sessions. She is also busy working with other artists as a songwriter. Her latest co-write with super producer Zach Adam, "Party Girl," is fast on its way to being the party anthem of 2011.
DARKO SARIC - Darko Saric is a composer/producer with a BA in Music Composition from the National Conservatory of Lima, Peru, where he also studied Sound Design and Music for Film and TV. Darko began his career in Lima working with Peru's top bands and solo artists. While there he began to compose music for independent films, corporate videos and advertising.
Now residing in New York City, Darko is composing music that has been featured on network and cable television, including CW11, ABC, NBC, AMC, MTV and ESPN, and working as an independent producer developing projects with upcoming bands and singers/songwriters.