Danny Ross - And The Trumpets Sing...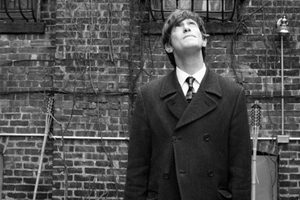 Melding lyrical honesty with ambitious arrangements and pure imagination, Danny Ross builds a sound that's completely his own – and yet awfully familiar. Like some refreshing hybrid of McCartney's sophisticated 60s pop, Springsteen's American rock n roll, and Ryan Adams' alt-country twang. And like his heroes, he somehow retains a uniquely identifiable voice.
In the breakthrough year of 2011, Danny Ross, along with his nine-piece band and horn section, played showcases at the SXSW and CMJ music festivals, opened for 90s star Paula Cole, headlined NYC's Mercury Lounge and Rockwood Music Hall, and played their first shows in Boston, Philadelphia and Washington DC. This summer they'll be playing a NYC July Residency at the famed venue, The Living Room. Ross was selected for the 2011 Songwriters Hall of Fame New Artist Compilation, and with over 800 unique voters, was chosen as NYC Artist of the Month by Deli Magazine. Meanwhile, his songs were placed this year on MTV, History Channel, E!, CNN. He performed on NBC Non-Stop NY, and is a cast member and theme-song composer of the anticipated new pilot "The Scene LES"
Brooklyn-groomed and Long Island-bred, Ross, 27, grew up inspired by the rock and soul music of the 1960s. Discovering the Fab Four's genius as an early teen, he picked up the piano, guitar and harmonica and quickly made a name for himself locally before creating his own major—Popular Music Composition and Performance—at Cornell University. It was there he begun to compose the album One Way. Picking up to New York City, the EP Introducing Danny Ross! quickly followed.
One Way, the debut LP four years in the making was self-released in 2010 and was received with great enthusiasm by the New Yorker, American Songwriter, and CMJ. Inspired by the great conceptual albums of rock history, Ross created an ambitious thirteen-track orchestral journey of highly arranged pop songs addressing the struggles of young-adulthood. One Way marked its release with a complete performance in its entirety by a seventeen-piece band and orchestra at New York's historic St. Mark's Church. The album is available now with Radiohead-informed Pay What You Want pricing.
And yet from nine to five, Ross lives a very different life as a staffer for US Congressman Jerrold Nadler. And he credits his day-job for providing him with the organization needed to be a successful DIY artist. He's also furthering his compositional studies with Grammy-nominated composer, Ed Green, and wrote a musical staged on Broadway's Snapple Theater in June 2011. With all that he's accomplished so far in his young career as a performer, composer and rising presence in the national music scene, Danny Ross is riding one way to the top.