The Songwriters Hall of Fame was saddened to learn today of the passing of one of our esteemed inductees, Robert Sherman.
Renowned children's film composers Richard and Robert Sherman have written some of the best-loved and most recognized songs in motion picture history. One of Disney's most successful songwriting teams, the music of the Sherman Brothers can be heard in such classics as Mary Poppins, The Jungle Book, Parent Trap, The Aristocats, Bedknobs and Broomsticks, The Happiest Millionaire and Chitty Chitty Bang Bang, the movie musical that recently opened on Broadway. The spectacular stage production features their original Oscar winning score along with some newly written songs-and that famous flying car, of course.
With a career that spans almost 50 years, the Sherman Brothers have amassed numerous accolades, including two Academy Awards (from a total of nine nominations), two Grammy Awards, 23 gold and platinum albums, and a star on the Hollywood Walk of Fame. They also earned the BMI Richard Kirk Award for Outstanding Career Achievement at the performing rights organization's 1991 Film/TV Awards.
Songs like "Chim Chim Cheree," "Supercalifragilisticexpialidocious," "I Wanna Be Like You (The Monkey Song)," "Chitty Chitty Bang Bang" and "It's A Small World (After All)"-one the most-performed and most-translated songs on earth-are all part of a monumental body of work that continues to touch the lives of millions of children and adults, around the world.
Inducted into the Songwriters Hall of Fame in 2005, Robert Sherman moved to Britain in 2002 after the death of his wife Joyce. He is survived by his brother and four children: Laurie, Jeffrey, Andrea and Robert.
For more about Robert Sherman, visit his exhibit in our Virtual Museum.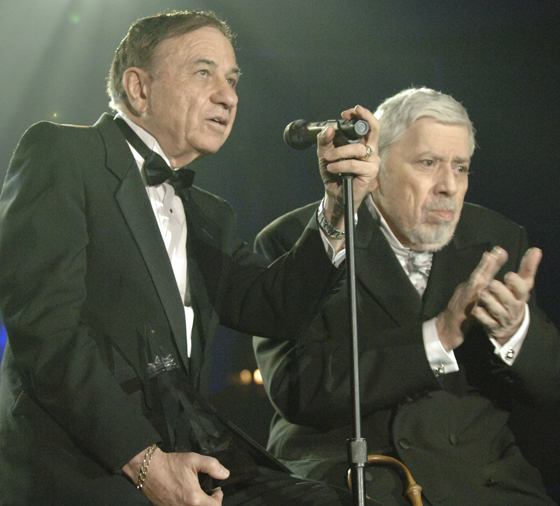 Richard (left) and Robert Sherman at the Songwriters Hall of Fame 2005 Annual Awards Gala