By Jim Bessman for The Examiner
That Dick Clark had unique stature in the music business was evident by the swift outpouring of tributes from all segments of an industry he did so much to shape for so many years.
"Dick Clark, a fellow Syracuse University graduate, was the reason so many of us got into the music business," said music publishing mogul Martin Bandier, chairman/CEO of Sony/ATV Music Publishing. "His show American Bandstand, which lasted for decades, brought contemporary music of the time to a new level."
Clark was a deserved Rock and Roll Hall of Fame inductee in the Non-Performer category, and had also been singled out by the Songwriters Hall of Fame with its prestigious Sammy Cahn Lifetime Achievement Award, which honors industry veterans who are acknowledged as pioneers in their craft, whose body of work over time has been substantial, enduring and influential, and whose success and contributions over a lifetime have inspired the music community.
"He was a shy and private person and not a publicity hound," noted the organization's president/CEO Linda Moran. "He made stars out of artists and hits out of records and was an amazing businessman."
Moran actually received from Clark his National Music Foundation's Founders Club Award in the early 1990s.
"The fact that Dick Clark was presenting me with an award blew my mind," she continued. "He was largely responsible for introducing me and my generation of baby boomers to the world of music, teen idols and dancing. Who can ever forget his $64 million question when rating a new record: Do you like the beat or the lyrics?"
Clark, Moran added, "could never understand it when I would tell him how excited everyone would get when he called—with his quite recognizable voice—or how thrilled they were to meet or see him whenever he visited my office. I admired and adored the man and he shall be truly missed, but what a great legacy the Philly DJ, who became one of the world's most successful entertainment moguls, has left us with. He was a part of everyone's youth, and was also a great judge of character."
Read Jim Bessman's full story here: http://www.examiner.com/article/dick-clark-an-appreciation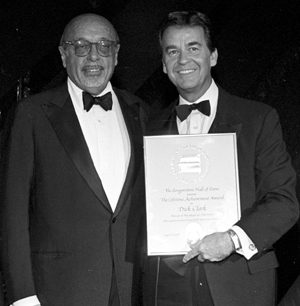 Ahmet Ertegun presenting Dick Clark with the 1988 Songwriters Hall of Fame Sammy Cahn Lifetime Achievement Award