From dance/funk to Duran Duran, and from Madonna's "Like a Virgin" to the video games of today and the musical theater of tomorrow, Nile Rodgers' songwriting, production, and propulsive guitar are at the core of a remarkable body of work. With more than three decades as a musical force, the articulate legend will open up about his years as a songwriter and performer in the next Songwriters Hall of Fame (SHOF) Master Session at NYU on April 10th. NYU Steinhardt songwriter-in-residence Phil Galdston will interview the multi-talented creator.
Free and open to the NYU community, members of the Songwriters Hall of Fame (SHOF) and the music community, the event will take place at 7 p.m. at NYU's Frederick Loewe Theatre located at 35 West 4th St. at Greene St. Subway lines: A, B, C, D, E, F, M (W. 4th St.), 1 (Christopher St.), N, R (8th St.), 6 (Astor Place), 6 (Bleecker St.). Due to open seating, reservations are encouraged. To make a reservation, please call 212-998-5424.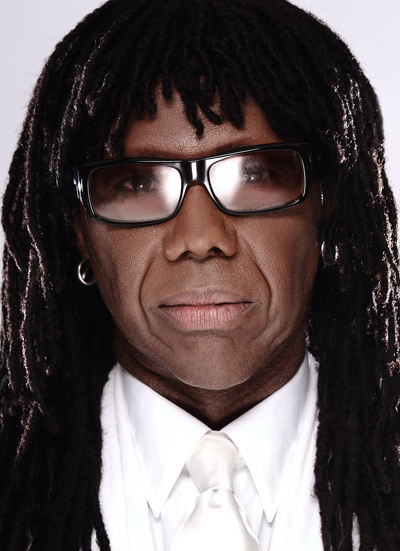 "Throughout my career, I've worked with some amazing artists and have learned invaluable lessons from them all," said Rodgers. "I'm really looking forward to sharing the tricks of the trade with the NYU community, and especially the students. Phil Galdston is a gifted songwriter, producer, and a dear friend, who'll be able to get the best out of me."
Rodgers is one of the most successful songwriters of his era, with award-winning hits such as "We Are Family," "Le Freak," and "Good Times." "Le Freak" is Atlantic Records' only triple platinum selling single. In 1977, Rodgers and his partner Bernard Edwards formed the band CHIC, which had a string of number one songs. The duo wrote for and produced the 70s iconic act Sister Sledge, whose 1978 landmark album, We Are Family, remained on the charts well into 1979. In 1980, they wrote and produced the album Diana for Diana Ross, yielding the hits "Upside Down" and "I'm Coming Out." Samples of his work on CHIC's "Good Times" were the cornerstone of The Sugarhill Gang's "Rapper's Delight" – the first multiple-platinum Hip Hop single.
Rodgers went on to write and produce groundbreaking albums for some of the greatest recording artists, including Madonna and David Bowie. His autobiography, "Le Freak" (Random House) has won rave reviews.
"Nile has been an innovative producer and songwriter for decades, breaking new musical ground and presenting his visionary style, garnering world recognition," said SHOF Chairman Jimmy Webb. "We are very excited to have the chance to gain insight into his creative achievements within this intimate setting."
The Master Sessions, a feature of songwriting studies at NYU Steinhardt and part of the ongoing educational activities of the Hall, were launched in 2011 and have profiled the careers of such legendary songwriters as Jimmy Webb and Glenn Frey.
Rodgers continues to tour, compose, produce, and brainstorm. He is arguably the most sampled songwriter of all time, and he has enjoyed tremendous success in new media, including in video games. Recently, he has co-created two musicals, both of which are making their way to Broadway.
"We are delighted to welcome Nile Rodgers as the next guest in our Master Sessions," said Robert Rowe, chair of the NYU Steinhardt Department of Music and Music Arts Professions. "He's an amazing musician, brilliant songwriter, and consummate professional, his insights will be invaluable to our students."
The Master Sessions are part lecture, part performance, and part in-depth interview, concluding with a Q&A. The Master Sessions are organized and moderated by GRAMMY-nominated songwriter Phil Galdston ("Save the Best for Last"), a member of NYU's Artists' Faculty for five years. He has also just been named the first member of the School's songwriting faculty, as well as Songwriter-in-Residence.
About The Songwriters Hall of Fame:
The Songwriters Hall of Fame celebrates songwriters, educates the public with regard to their achievements and produces a spectrum of professional programs devoted to the development of new songwriting talent through workshops, showcases and scholarships. West Cost educational activities are held at The Grammy Museum, which hosts the permanent Songwriters Hall of Fame Gallery.
About Steinhardt Music and Performing Arts Professions:
Steinhardt's Department of Music and Performing Arts Professions was established in 1925. Today, 1,600 students majoring in renowned music and performing arts programs are guided by 400 faculty. Since merging with the New York College of Music in 1968, Music and Performing Arts Professions has functioned as NYU's "school" of music and developed into a major research and practice center in music technology, music business, music composition, film scoring, music performance practices, performing arts therapies, and the performing arts-in-education (music, dance, and drama).
To learn more about NYU Steinhardt and the Department of Music and Performing Arts Professions, visit: [url=http://steinhardt.nyu.edu/music]http://steinhardt.nyu.edu/music[/url].