Apr
4
2011
New Writer Showcase Rocks The Bitter End!
It was an exciting evening of original songs and performances in front of a cheering audience at our most recent showcase. The talent ranged from our recent Writers Workshop members, veteran writer/performers, and up and coming new artists. The evening was capped with a performance by the new group XELLE. Producer/writer Zach Adam wrote their latest single "Party Girl" with fellow workshop member Jennifer Logue. Another workshop member, JC Cassis, is one of the singers in XELLE along with Rony Gofer and Mimi Imfurst. Check out the fun video on YouTube.
We have our Writers Workshop C beginning on April 19th - don't miss out - for more information get in touch with Peter Bliss at .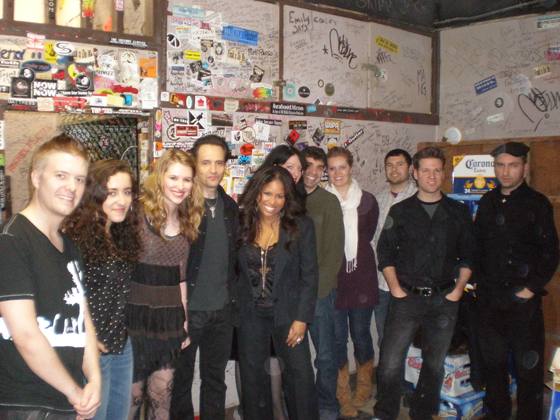 (L-R) Adam Shenk, Savannah Jeffreys, Carly Eden, Eugene Ruffolo, Nicki Richards, Patti Rothberg, Kiki Barrera, Megan Burtt, Particle Zoo's Patrick Suler, Jeff DeVito & John Christie